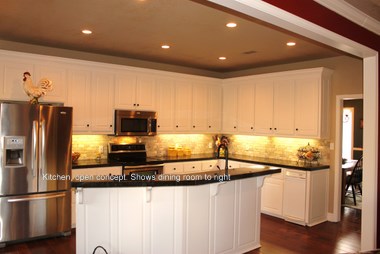 TO SHOW, OR NOT TO SHOW, THAT IS THE QUESTION!!
Before you go "all in" on asking your agent to hold a public open house (or if you are entertaining the mistake of selling by owner), there are some serious things for you to consider.
I will give you a link to an excellent article that appeared in msn real estate outlining the pros and cons. It makes for good reading:
http://realestate.msn.com/article.aspx?cp-documentid=13108451
Some of the highlights you will find are a dwindling effectiveness over the last few years. Something like 2% of open houses actually find the buyer for a particular property. The several hours spent in an open house are often better spent at something else related to the marketing effort. With 20 some-odd pictures on the internet, good internet coverage, Good quality pictures and lots of them on both the public internet and the multiple listing service... there is little need for open houses any more. Chances are that another real estate agent will bring the buyer to the property. Time spent making the home look its best on the mls is better spent in my opinion that sitting at an open house, twiddling my thumbs or hoping I can get an internet signal so I can still be productive at my work.
Here are a couple of reasons why agents do not like to do open houses...
1) Many people coming to opens are what we call "lookie-loos". They spend their time looking at houses, but not actually buying them. They are sight seeing, not shopping.
2) Next we have the nosey neighbor. They want to see how you live. They already have a home in the neighborhood.
3) Related to the lookie-loo is the would be decorator. They go to opens to get decorating ideas.
4) The unqualified/uninformed buyer... the one that cannot afford your home, but they are dreaming about it. In fact, they are often clueless about the process of financing and this needing to be that a trip (or trips to) lenders needs to be the very first ports of call before looking for a home.
5)Next there is a remote and small chance that the looker is a potential burglar...casing the joint.
6)Next, a remote chance that a looker is a thief. The agent is distracted while the accomplice goes through your stuff. It is hard to police an open house when there are a few folks that come in all at once. It is easy for a person to be unattended.
A great reason to HAVE an open house??? I will get a chance or two to have new clients!!! If the house being held open does not work for the Jones family, and they do not have an agent... I would be remiss to my Broker's success and my bills to be paid if I did not offer them my services for a later date. I have heard sad stories of agents that have actually left opens to go show the "Joneses" a similar property nearby, thereby "setting the hook".
Now here is where I'm going to differ by a light year or two. To me, this is completely unethical regardless of how slow the open house traffic is. If your home does not meet a particular buyer's needs, after firstly trying to handle their objections and obtaining feedback for you, I would hand them my card, mention my access to dozens of homes that DO meet their criteria on the mls and tell them to call me at a later time because at that moment, I am working strictly for my seller client and I am obligated to try and sell THIS home during the open.
A good, but not great reason to have an open? A 2% chance of finding a buyer for it. I do open houses if the seller really wants one, but I will NOT spend a bunch of advertising dollars on it, as there have been NO sales resulting from opens in my experience. In talking (networking) with other Realtors®, if I find out that open houses are working like they used to, or if that data is changing,I might change that, but not until I hear that the 2% is increasing. There are other factors to consider on my side as well...and although, as a retired law enforcement officer, I can handle myself in an emergency... numerous agents are attacked every year at opens and showings.
These are some of the reasons.."To show, or NOT to show. THAT is the question!" Hope this gives you food for thought!!