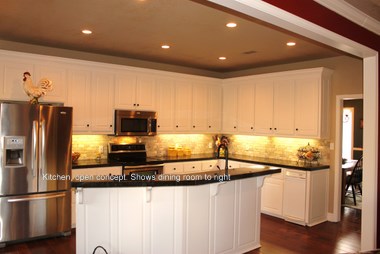 Yesterday, we looked at a general "average listing price", and let you see that the term, "average" is in the eye of the beholder, or usually the reporter. It can say many things, and there are numerous "averages" that can possess vast differences. The same details effecting listing prices can hold true in the "average" SOLD prices.
Please allow me to state here that the way you can arrive MUCH closer to an AVERAGE that would be meaningful to YOU is to seek out a Realtor®. Of course, you can begin online and most people do that. There's nothing wrong in beginning your search online. There is a lot of info out there...too much in fact. A good Realtor® (and all agents are not Realtors®) will not only listen to your needs and wants, but will bring you closer to reality. Often many buyers and sellers need a reality check (sorry, but they do). As always, I'd be happy to work with you as your Realtor®.
Today, we are going to look at the "average selling price". Again, we are going to cast some wide nets. We will narrow the area to Garland County alone and will look at several types of homes... stick built residential, waterfront residential, residential condo/townhome, and Lakefront Condo/townhome. We will look at the average sales price for the entire year of 2017, and then (just for fun) break it down by quarter. Off we go!!!
AVERAGE SELLING PRICES, CALENDAR YEAR 2017:
Residential single family home: There were 940 sales, Average SOLD price was $159,111.
Lakefront Single Family home: There were 177 sales. Average SOLD price was $424,798. Keep in mind that there are 2 lakes, main channel frontage, river frontage, creek frontage and narrow bay frontage...all called lakefront. Often the differences have an effect on the sale, and price.
Residential Condo/townhome: There were 74 sales. Average SOLD price was $90,723
Lakefront Condo/townhome: There were 137 sales. Average SOLD price was $215,281. Keep in mind that all the variables of the Lakefront Single Family Home can come into play, and in addition... a "Lakefront Condo" can be in a condominium development that has lake frontage as part of the common property, and the condo itself might be back from the lake, or have buildings in between itself and the lake (sort of like an obstructed oceanview cabin on a cruise ship).
I hope this helps somewhat (but it really doesn't,does it? Go back to the second paragraph). Oh wait... I said we would look at it by quarter also, which might actually give us an idea of the market!!! But then I'll shoot that down a little also... ha ha.
AVERAGE SELLING PRICES BY QUARTER, 2017:
Residential Single Family: 1st: 190 sales, $155,250; 2nd: 258 sales, $159,170; 3rd: 267 sales, $165,908; 4th: 225 sales, $154,238
Lakefront Single Family: 1st: 38 sales,$442,376; 2nd: 44 sales,$469,364; 3rd: 60 sales, $381,934; 4th: 35 sales, $423,168
Residential Condo/townhome: 1st: 18 sales,$87,652; 2nd: 20 sales, $76,655; 3rd:15 sales, $77,427; 4th: 21 sales, $116,252
Lakfront Condo/townhome: 1st: 25 sales, $203,684; 2nd: 39 sales, $216,982; 3rd: 35 sales, $217,565: 4th: 38 sales, $219,060
Now for a final curve ball, which is appropriate, because real estate numbers are a lot like baseball stats ( similar to: who led the club in ninth inning lead-off doubles in the month of August against left handed pitchers). Sometimes a spike in average price when you are looking at a smaller dataset (as in quarterly vs annually) can come about due to one or two large $$ sales. Examples in the above data to note: A single $3.5M sale in the 2nd quarter in lake homes had an effect, plus 2 condos in the 4th quarter listed as residential when they could have been listed as lakefront (due to the complex) had higher than "usual" prices for the "average" residential condo (sold for over $200,000 when the "average" is often less than $100k).
Alright, so there you have it. Man, you guys are making me work! If you need a Realtor® and don't already have an agent, give me a call. I'd like to help. My contact info might just be found around here on my website. ;)