This will be a synopsis of a blog post:
Redoing Your Kitchen on a Budget of $1,000 or Less
Posted on May 18 2016 - 12:02pm by Andrea Davis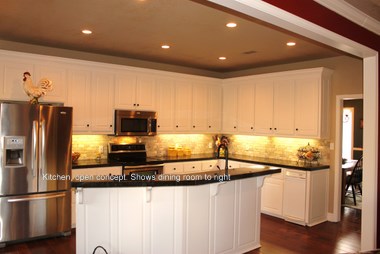 Everyone wants to wow buyers... they will/can spend thousands of dollars on a kitchen makeover in order to sell their home... my question is usually, "Why didn't you do this so that YOU could enjoy the upgrade???" That question hangs in the air like the humidity in August.
It's a good article and makes some GOOD sense... DOLLARS AND CENTS SENSE.
1) Swap out the hardware. This is a no brainer in a sense. There are so many homes I see that have no hardware on the kitchen cabinets... most of us in the real world have pre-constructed cabinets, and these normally do not come with hardware. So? They work, right?? Yep, but they look about 75% finished. You would be amazed at the "upgrade" look that your kitchen will have if you go to a home improvement store and buy some pretty hardware and install it yourself. They have templates you can buy that will greatly assist you in placing the holes in the right places and takes a lot of angst out of measuring.
We did this in our little kitchen and I have to say, the effect was amazing...and...we did it (drumroll) for OURSELVES, not buyers. WE enjoy the look and feel. ;) DO make sure that you are good at lining up your drill... as in horizontal.
2) Buy a new faucet. I do agree with this, if you need one. We do, and I haven't bought one yet, but it is on the list. My home was a spec home, so everything in it is mid-grade to cheap or contractor grade. Our faucet is functional, but hardly attractive. We are going to get a new sink too... contractor grade stainless sinks are a bit on the thin side (SOMETHING TO CONSIDER WHEN REPLACING YOUR SINK), so ours had dents when we bought the house. My sweet wife has been very accommodating to the fact that I have yet to replace the sink with the dents and mild stains...yes, certain stainless does stain. Unfortunately, Bill and plumbing do not mix with satisfactory results, so I guess it is my Scottish ancestry thinking about the moola it will involve to replace sink, faucet, and probably the disposal.
3) Try a stainless steel laminate backsplash. I'd have to see it. A backsplash is a good idea, and there are MANY out there that are good DIY projects. I personally do not want my kitchen to start looking like a diner kitchen, and too much stainless to me is just well...too much. But that is my opinion. We saw a nice looking IN THE STORE backsplash material but only bought 3 sheets of it and took it home and left it in the packaging...propped it up where it was going to go, and left it for 2 days. After 2 days, we were still at the "Meh..." point, so we took it back. Still don't have a backsplash up, but guess what???!!! The kitchen works just fine without it. I guess we have fewer food fights or stir more carefully.
4) Install a ceiling fan (?) Well... I do not agree with this. It's going to look good and trendy and if you watch a lot of those real estate reality (not) shows then I guess you might just HAVE to have one because the Property Brothers installed one (I like their show). Keep in mind that a ceiling fan will cool your kitchen...but it will also cool the food. Maybe an old fashioned oscillating fan that you could point at YOU and not the food (Plus they still look cool in the right setting... LOL
5) Think outside the box. I have to conditionally agree. Anything you do, do it for yourself, but in the back of your mind, don't forget that you are probably gong to eventually sell your place and you don't want your thinking outside that evil box of conformity to turn buyers off. Just sayin'. I toured a home that had a designer kitchen which was really cool. On the large wall was a stylized relief sculpture of the outline of a '53 Buick. Yep. I thought it was neat because my uncle actually had a '53 Buick back in the day (yep, and I remember it, but it was probably in 1958). Did the buyers respond? Nope. Last time I toured the house, they had painted it to match the wall to soften the presence. So be a little careful about being outside that box :)
Here is the link to Andrea Davis' entire blog article so you can read it all:
http://blog.rismedia.com/2016/redo-kitchen-budget/?utm_source=newsletter&utm_medium=email