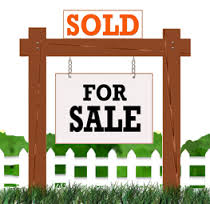 "Why didn't our home sell?"
(SOLD signs look much better than FOR SALE signs)

You've probably asked yourself that question and others several times. (I ask myself that when listings are sluggish performers). You might think the list price was too high. Or was there something about your property that made it unattractive to potential buyers? The sad truth is that there WAS something, or it would have sold. (Don't give up the ship though) Failure to sell is frustrating...honestly, I "get it". I have lost my share of sleep over listings that did not sell for one reason or another. (It's my job to get them sold, not just admire my sign in the yard or brag about the number of listings I have).There can be numerous reasons for a home not selling. Sometimes it's a simple fix. Other times it is a bit more complicated.
I looked online to see what was out there for the surfing public and looked at 11 sites that were prominently listed and figured I'd post what the results were as to the WHY LISTINGS EXPIRE...
PRICE was the top reason listed. I'll expound further down...

Marketing came in number 2.

The Agent not doing their job.

Condition of the home.

Curb Appeal

Availability/accessibility for showings

Area/neighborhood

Communication with the agent (tied 7th place with neighborhood)

Market conditions (tied with the 2 above)

Contract length too short.
Let's deal with these... first off:
Pricing correctly IS number 1. The cold hard fact is that buyers will/should NOT overpay for a home. The Lender WILL NOT overpay for a home (Deja vu from 2007). Your home has to pass the appraisal performed by the lender for the contract price, or the funding will not happen without the buyer bringing more cash to the table...cash that the buyer may not have. Result: Contract terminated
Compare your home to a can of beans on the shelf of the store (I know it's a stretch, but hear me out...). If the beans on the shelf around your can of beans are less expensive and there is no easily discernible reason for your beans to be more expensive, why would the shopper purchase yours???? (Oh wait!!! There are all those rich people coming to the horse races and coming to the lakes around Hot Springs, so one of them is surely going to overpay for a house...I'm betting that they didn't get rich by overpaying for things).
The buyers are out on the internet looking (hours and hours)...they KNOW your competition, trust me, they do. Price the home correctly through your agent, NOT through one of those auto-valuation tools online.(I have more than one tirade about these here and there on this website)
Number 2...marketing (which sort of goes hand in hand with the next one ,"the agent not doing their job"). Second to having a competitive price for the product (yes, your home is a product to sell), marketing is key. Again think of the beans... you want a pretty label that took some time to design, not just a generic black and white sticker saying "Beans" with out of focus or smeared printing. Your home has to be placed in several places for people to see, especially on the internet (you are here...so are the buyers), and although internet placement is a no-brainer, HOW and WHERE you place that listing is extremely important. Up to 90% of the buyers out there begin their search for a home online.
Number 3: The agent not doing their job. Well, we have to blame someone, right? Even if a seller placed an emotional value on their home and the agent took the listing at that price. I have heard folks who thought the agent didn't do their job (usually the home was overpriced right out of the gate) say, "My agent didn't show this house once." Well, that's not always a pertinent thing, provided that the agent IS doing their job, and that job entails FAR more than merely sticking a sign in the yard, and doing a quick/lazy job of sticking the bare minimum of photos or description in the Multiple Listing Service®. And even though I have to bite my lip when the sellers blame the agent, it actually-kinda-sort of boils down to the agent didn't do what they should have done from the start...and one of the best things an agent can do is to educate the prospective seller up front. An agent should share their insight about the home with the potential seller-client from the beginning. For instance (and you will see those 10 top reasons for a home not selling further down, plus what the agent could have done):
SHOW DATA that supports what the price should be regardless of what the seller saw on the internet or thinks their home is worth. Pricing the home correctly from the start is one of the most important things you can do. You might not like what the data shows...but it is there and it is important to take to heart.

GO OVER the MARKETING PLAN in a realistic fashion with the seller. Some stuff works, some doesn't. There is a downside (to me) about putting your listing everywhere.

Communicate with the seller what you are going to be doing and show them what you do DURING the listing period

Walk through the home and point out condition-oriented factors that will have an effect on the price and sale-ability of the home... (looking through a buyer's eyes...remember, pretty much everyone has a professional home inspection now)

Discuss the Curb Appeal and provide options, especially budget friendly ones. The curb appeal also has to apply to the lead-in photo on the internet.

Discussing the ease of showing the property and making the seller aware that if it will be hard to show, or have 24 hr notice, etc., it will have a detrimental effect on the number of showings, and the number of showings has a direct effect on the possibility of offers.

Go over the surrounding area and how it might work against the home sale.

You want an agent that communicates with you. After all, you are trying to liquidate what is normally most individuals' largest asset. You should be informed as to what is going on like performance on the internet, ads, feedback from agents, open houses, showings, etc. It may not be what you want to hear, but you need to hear it and it needs to be shared with you pro-actively, so don't shoot the messenger.

The market conditions should be shared up front. Not the "general market", but the specific market that relates to your home, its condition, and the area around it.

An explanation of why a short listing contract length will not help the sale under certain conditions. Our market is healthy, but let's face it, it's not Denver, L.A. Or Atlanta. It might take a bit longer to sell your home than you read in the headlines on the web. A short contract period will not allow the marketing plan to do its work.
So I guess that is an explanation and in a nutshell of 10 large reasons for home not selling. I have more, but would need to see your home and then discuss the reasons YOU think your home failed to sell. Please try to be objective (and I know it's hard).
I've worked with homeowners in many situations, and often there's at least one specific reason why a home didn't sell… and the reasons aren't always obvious (sometimes they are not even fix-able). I'd like to work together as a team to find out why... Not to bash a fellow agent's unsuccessful attempt at a sale, but to simply work together toward the solution to that hurdle. Sometimes a different point of view is what it takes.

Obviously the real answer to your situation of selling your home isn't here or elsewhere on the internet . It takes a face-to-face encounter (I know... bizarre, right???) It takes time and work to figure this puzzle out.
If you are thinking of exploring options after your home has been unsuccessfully listed, please give me a call, and I can drop by and take a closer look at your property. I'm not only experienced selling homes like yours but also have worked with a lot of very picky buyers and inspectors over the years in this market, so we can probably identify aspects that might have prevented your property from selling.
At the very least, you'll have a better idea what to do -- or not do -- should you decide to put it on the market again. I would like to work hard to give you a good experience...even better, a "SOLD' sign in your yard.

Call, text or email and let me know when it's a good time to make an appointment with you.
No obligation is expected... you are always the one in control.